1. Ultra Rich Match
With a flat registration charge of Rs 41,300, Ultra Rich Match positions itself as a website that specialises in "matchmaking for millionaires". The portal has an entire section dedicated to the various services that they offer along with paragraphs on why the rich should choose them. Notably, if you hit the 'Register' tab, it opens a wide array of options for you to select from, including non-traditional paths, which is refreshing to see. Under the 'Fee Structure' segment they do point out that you are eligible to pay them Rs. 1,18,000 if you end up finding the perfect partner through their services.
2. Matrimony Indians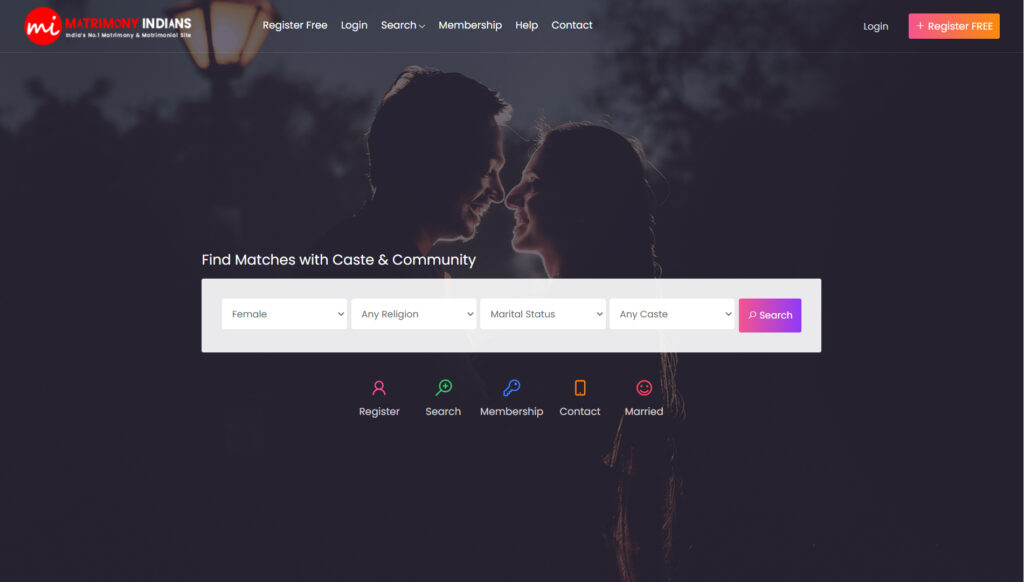 Indian Matrimony sites are not dating sites. They work with a vital objective and only genuine people who are serious about their life ally to sign up their profiles on matrimonial websites. It is most likely that, you get to meet the one you are looking for.
Search Unlimited Profiles
Send Express Interest
Register Free
Protect Photo
View Matching Profiles
View Full Profile
Shortlist Profiles
3. Elite Vivaah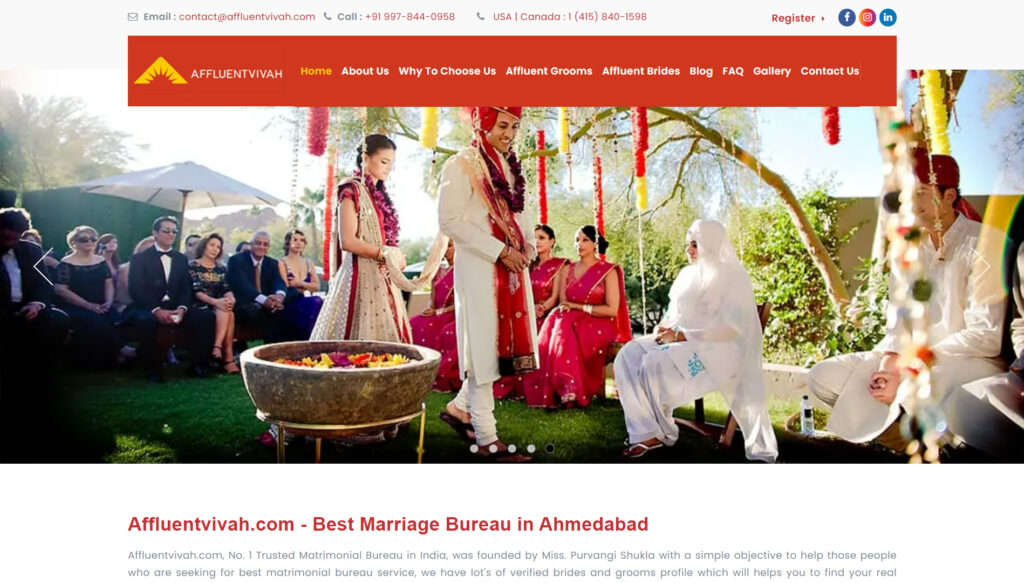 Elite Vivaah is a matchmaking service that helps elite individuals discover their corresponding soul; it acts as a bridge between elite brides and grooms in order to find ideal matches for their life. The company was founded by Purvangi Shukla. If you are looking for a high class marriage bureau with affordable matrimonial service charges then contact us at Affluent Vivaah.
4. VIP Matrimonial Services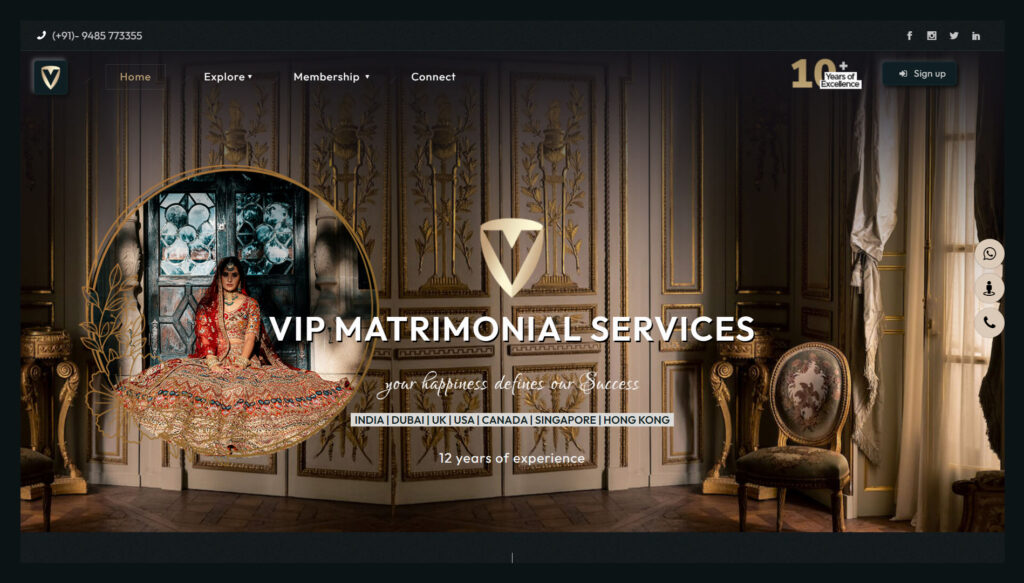 VIP Matrimonial services is a matrimony firm that helps Rich elites singles and professionals to find a match that is compatible and mutually bondable. Our Matrimony firm is the matrimony for all types of elites. This Matrimony is especially for rich and privileged people who want good families for their sons and daughter to whom they can get married. Most of the time, Rich people find it unworthy to take help from matrimonies as they don't find them loyal and reliable.
5. Vows For Eternity
Vows For Eternity prides itself on being "a serious destination for marriage". According to the founder's note, it "is a bespoke and confidential matchmaking service for the upwardly mobile global successful individual, headquartered in New York with an established presence in London, Delhi and Mumbai." It's also interesting to note that the service doesn't match you with anyone online. They take an interest in your life offline, sans a biodata and then try and set you up with a potential partner.
6. RVD Matrimonial Services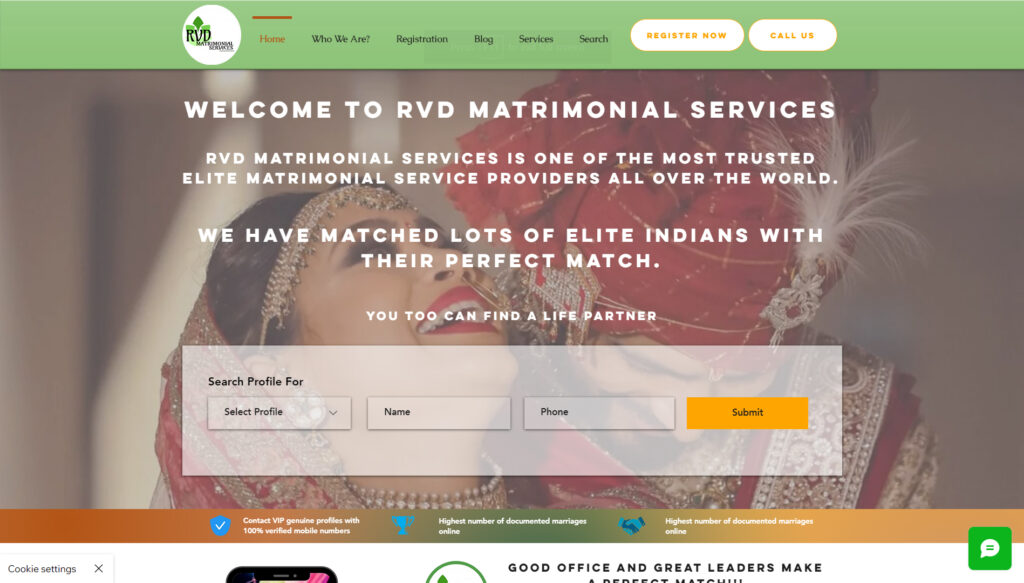 RVD Matrimonial Services was established in 1985, and has been patronized by some of the most elite families of India. It is a multi-service entity that covers under its banner a wide spectrum of activities related to both the corporate and domestic sectors.
7. Priya Shah The Match Maker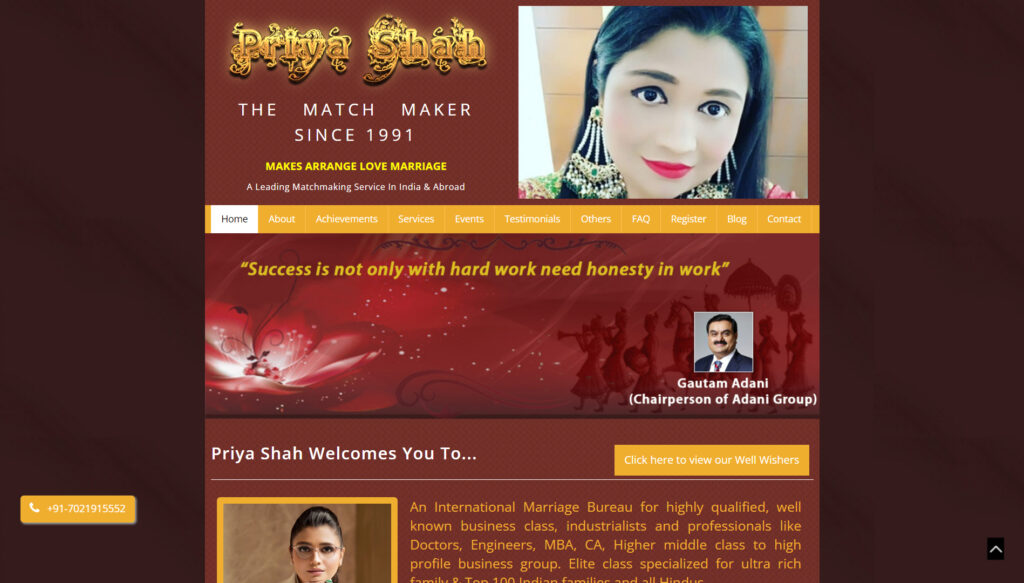 Serving candidates since 1991, Priya Shah The Match Maker is a leading matchmaking service in India and abroad. This is a perfect international marriage bureau for professionals, ultra-rich families, famous business class groups, Hindus, and other Indian families. For offering outstanding services in the field of matrimony, this reputed company has been honored with Priyadarshini Indira Gandhi Award and Mother Teresa Excellence Award in 2013.
8. MatchMe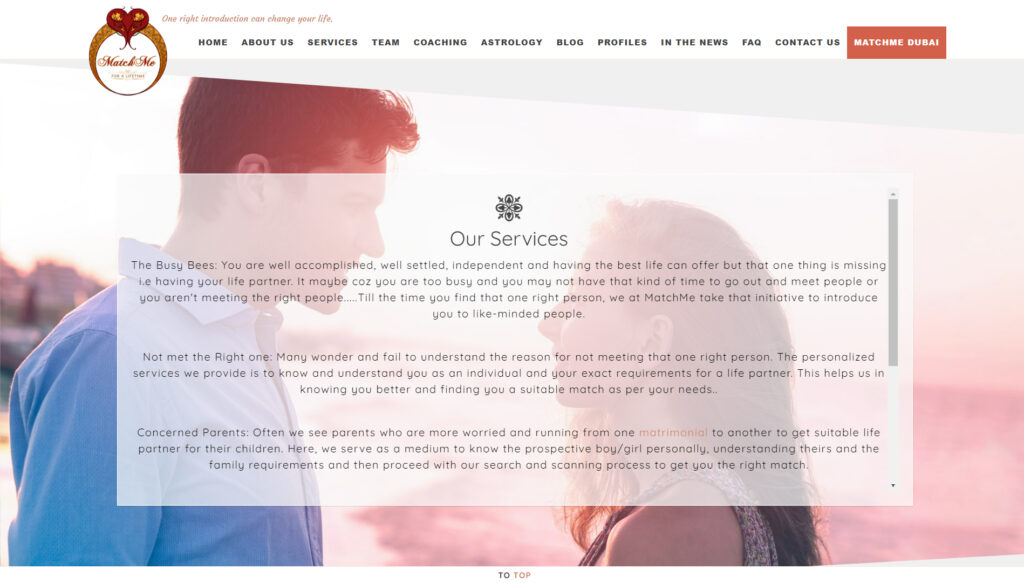 MatchMe is another boutique matrimonial service created to help upwardly mobile Indian individuals from across the globe to connect and eventually tie the knot. They offer a host of periphery services to ascertain this goal as well. Notably, the website does have a discreet 'Profiles' section.
9. Elite Matrimony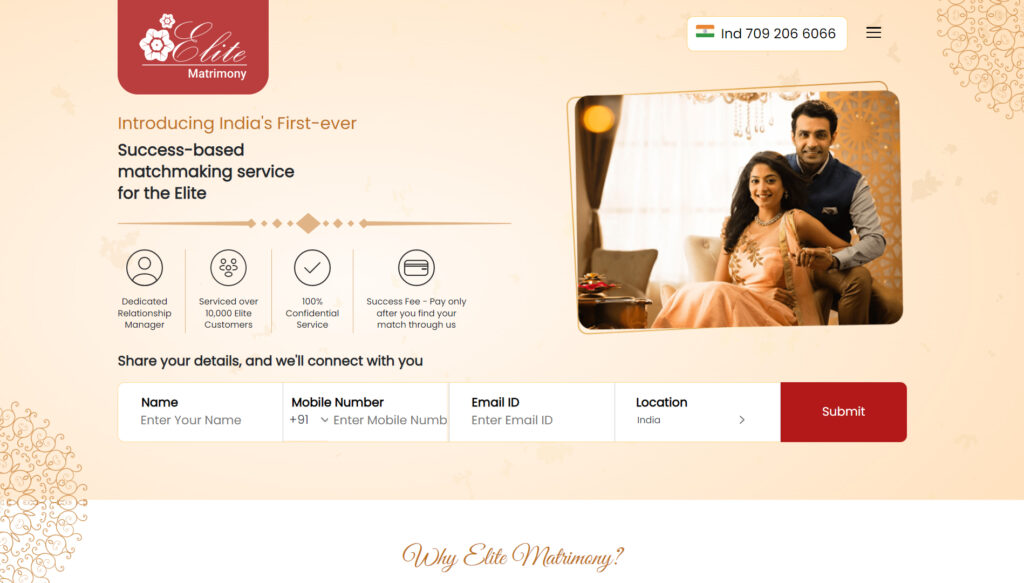 Elite Matrimony is an invite-only matrimonial portal from Bharat Matrimony and claims to have helped build 1000+ success stories. The website offers two packages: Elite Regular and Elite Supreme. Registering yourself for the latter can set you back by Rs 5,00,000.
10. Wedgate Matrimony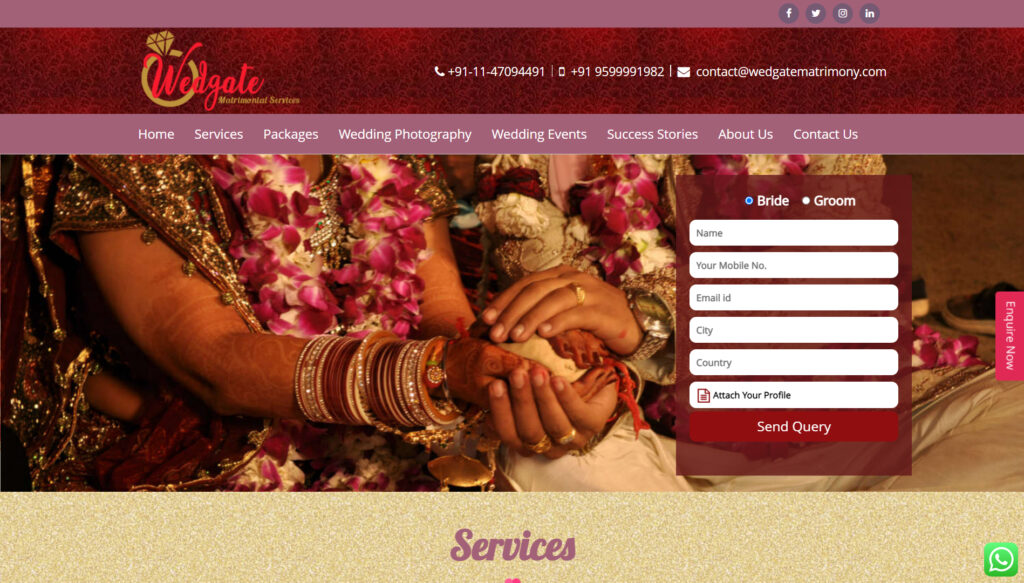 With a team of in-house relationship managers and marriage counselors, Wedgate Matrimony has transformed many lives by helping people find their dream companions. They have famous specialists with them who have pioneered in deeply understanding human behavior, psychology, and remedial measures. The specialized team helps them in achieving fast and more desirable results.
11. Shaadikrle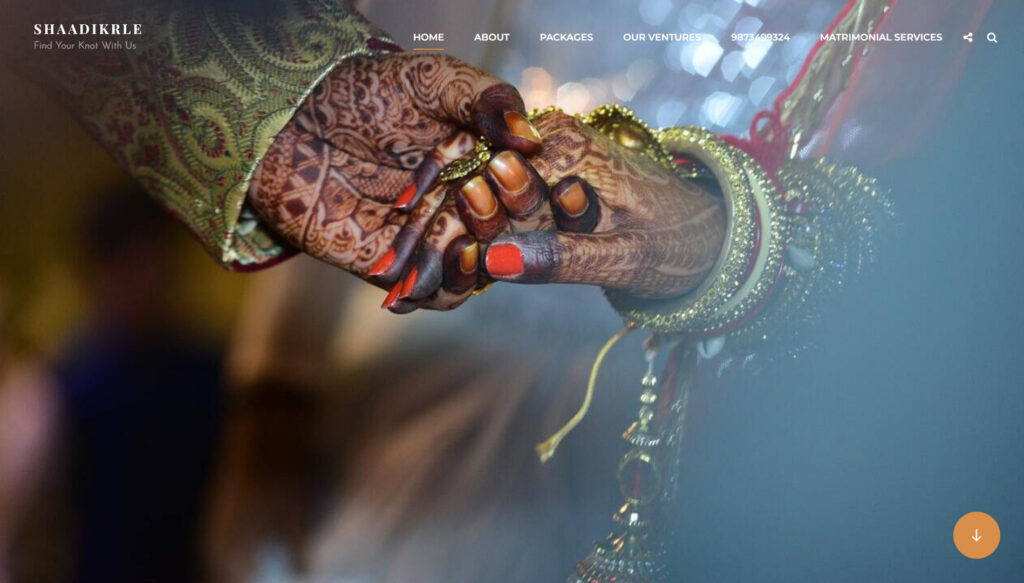 Shaadikrle offers Matrimonial services, your one-stop destination for finding your perfect life partner. As one of the best marriage bureaus in Delhi , we are committed to helping you find your soulmate with ease and convenience.
We are one such marriage site that only focuses on the High End and Rich class people. MI has matched hundreds of such couples till date and has years of experience in matchmaking.